2023 Wisconsin Antique Flea Markets
One of the best things to do during a Wisconsin Summer is to head outdoors and enjoy the warm weather. The season brings together the small business owner, crafter, farmer, antique dealer, and buyers to our incredible Flea Markets. About 90% of Flea Markets are outdoors, so you can do several things at once. Spend time outdoors, exercise, shop for bargains and support your local small business owners.
If you decide to go on a Flea Market Adventure, you will find incredible bargains from antiques, collectibles, crafts, clothes, vegetables, flowers, toys, and things that will pique your imagination.
Make a list of things you wish to purchase. A few things to add to your list are gifts for family and friends, home decor, tools, fresh produce, and a few plants to grow in your yard. Have a safe and fabulous summer of fun browsing Wisconsin's Flea Markets.
Please drop a comment below and let us know what events you have visited, which are your favorite, and what you liked or did not like. Please share what you offer if you plan to be a vendor at one of these events.
---
Crivitz Flea & Farmer's Market
Treasure seekers and bargain hunters………looking to go treasure hunting?
Our market offers a wide variety of bargains, treasures, and unique items for everyone. Shoppers come to the Crivitz Flea & Farmers Market from all over the state of Wisconsin and discover everything from antiques and collectibles; to arts and crafts to new merchandise.
We offer 15 Thursday – shows this year starting Thursday, May 26, 2022, and ending Thursday, September 1, 2022, including Monday, July 4, 2022 (8a-4p).
A small Flea Market will also be held on Monday, July 4, 2022, at the Crivitz Community Veterans Park this year. Each offers a unique display of goods and services.
Join us at the Crivitz Flea & Farmers Market for Great Shopping and Great Family Fun, and experience this Near North tradition for yourself!
---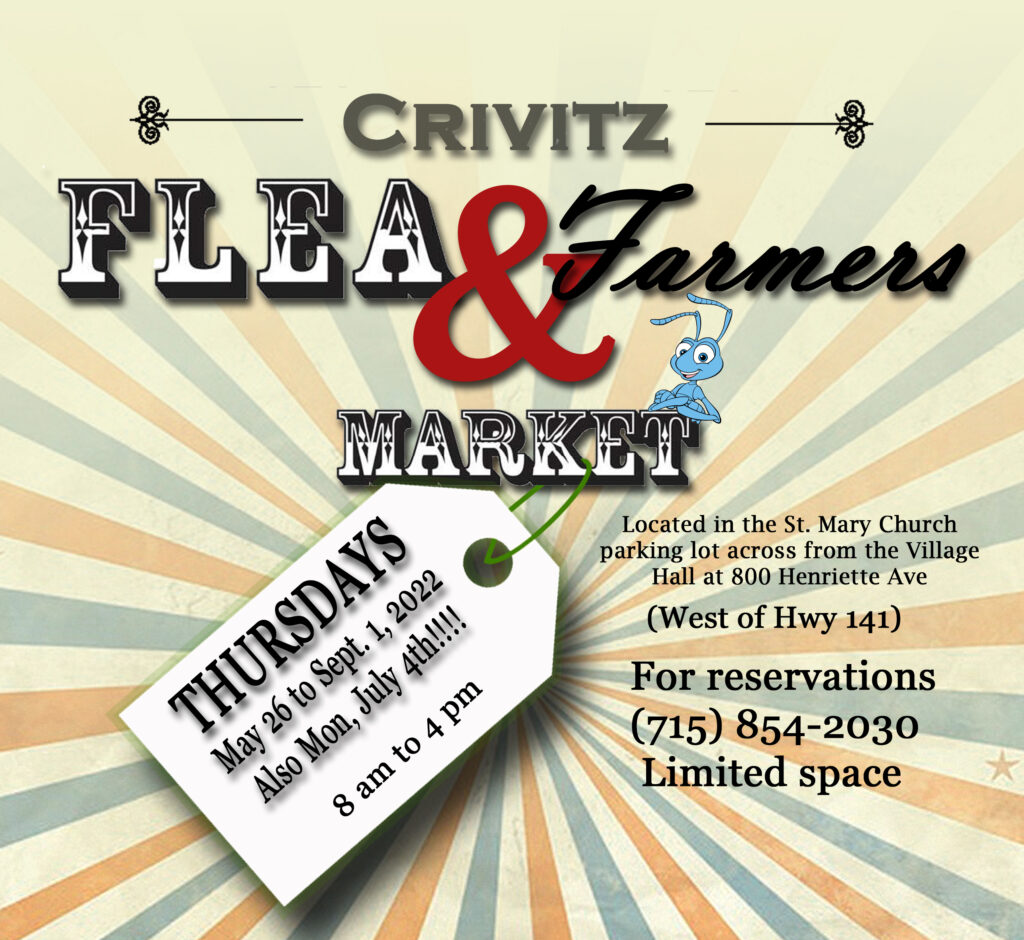 ---
The Elkhorn Antique Flea Market is Southeastern Wisconsin's largest Antique Flea Market and one of our favorites. You can find just about anything that you might be looking for. This is the one you do not want to miss.
It is held four times a year on a Sunday. Plan to go early in the day because many items are one of a kind and may be sold before you get there. The variety of items ranges from beautiful garden decorations, furniture, clothes, antiques, and collectibles ranging from vintage radios to fishing tackle and fresh produce.
As you browse the aisles, you find items you would never find anywhere else. Make sure you take the time to see everything. Plan to spend the whole day and enjoy the special food wagons.
---
7 Mile Fair
2720 7 Mile Road Caledonia, WI 53108
Open Every Saturday and Sunday Year-Round
Outdoor Market 9 am-5 pm Indoor Market 9 am-5 pm