On a recent visit to the Elkhorn Antique Flea Market, one of the first thing that I noticed was the shoppers who brought along their own shopping cart. The carts and wagons were everywhere. They came in all sizes, styles, and colors. What was even more interesting was what was inside the carts. I snapped a few photos and put them together in this video.
The Elkhorn Flea Market is huge and one can spend the whole day browsing the stands. Carts and Wagons are awesome to have when shopping at a Flea Market or hauling supplies to a picnic. I was a little jealous because I only had a small plastic bag to carry home my treasures while others had a cart that could carry just about anything.
Wagon Carts come in all shapes, colors, and sizes. They are invaluable when shopping at a Flea Market, having a picnic at the beach or just doing some gardening in your yard. Carts and Wagons are awesome to have when shopping at a Flea Market or hauling supplies to a picnic.
---
 Radio Flyer – Big Red Classic Wagon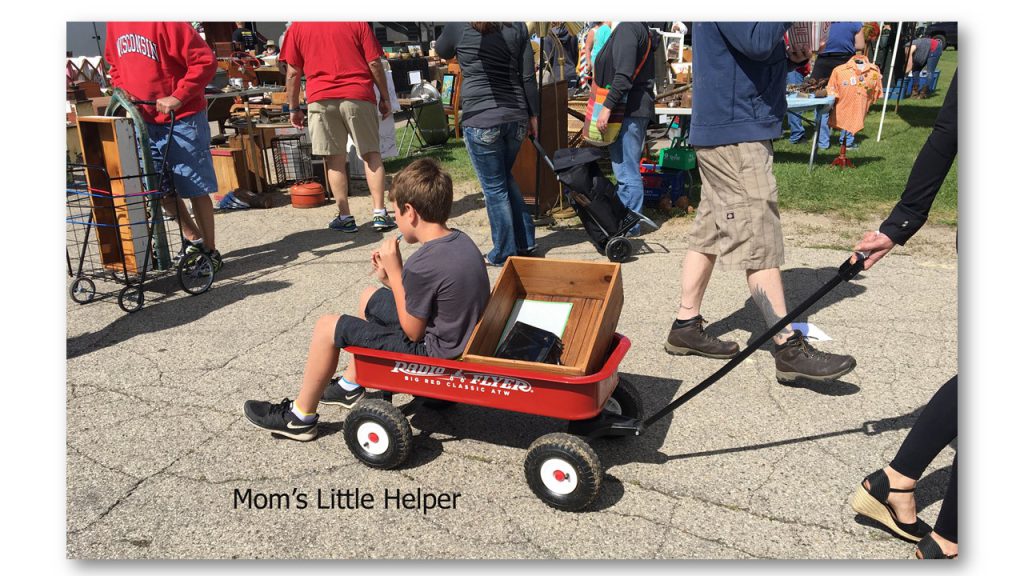 This wagon hauls the kids safely and has room to pack a few treasures. Mom is free to shop while the kids enjoy the ride. Over the years several styles have been designed, such as a heavy duty version with larger wheels and some come with wood sides that attach to give the wagon a larger box.
Pros:
Children can ride in the wagon.
Multi-purpose from toy to utility.
Long Handle.
Cons:
Not Collapsible to fit in a small car.
---
Heavy-Duty Gorilla Carts
The Gorilla cart is sturdy and multi-functional. The handle is extra-long with a wide handle. The handle can hook-up to a small tractor so that you can tow it around. On some of the larger carts, the sides are removable which gives you a nice flatbed cart for hauling large items.
Pros:
Sides are Removable
Large handle – can be pulled or towed.
Cons:
This cart may not fit in your car.
---
Collapsible Folding Utility Wagons
The collapsible type of utility wagons is great for smaller cars and storage. They are easy to fold. They are great for taking to the beach to keep all of your belongings up off the sand.
Pros:
Easy to fit in small cars.
Cons:
Not good for children to ride in because of the scissors frame. Some models come with hidden frames.
---
Extra Things to Take Along
Bottle of Water
Sun Hat
Sun Glasses
Umbrella if Rain is forecasted.
Plastic shopping bags for small items.
Blanket to wrap fragile items or cover your valuables.
A Few More Tips
Many flea markets are set up a grassy or gravel grounds. Choose a wagon that has larger wheels that can go over all types of terrain. Use your
Use your wagon for multi purposes such as when you go to the beach or on a camping trip.
Not all carts are safe for children to ride in. Carts that fold and have a scissor-like frame can easily catch fingers and pinch them. Before purchasing a cart for children to ride check to see if it is recommended safe for children if not choose a different style.