One of the things that I have always loved is collecting flyers from Antique Shops. The colors, the photos, the words are always unique to the individual shops. I love the variety of Advertising Flyers that I find displayed at Antique Malls, Shows, and Flea Markets. Above is a photo of a few brochures on display. Each piece is unique and authentic.
Usually, a graphic design company would have to create and print these brochures. A few years ago, a game-changer came to town, CANVA. An online graphic design program that is easy to use, makes the most stunning professional-looking brochures that almost anyone can master. CANVA is the best marketing tool that a small business owner can use today.
Below are examples of what you can easily create after a few lessons. Follow the steps to create your advertising flyer. You don't have to select the same photos or template that I did. The steps below are just for reference.
Begin by creating your own account at CANVA.com. CANVA offers a free subscription and a paid upgraded subscription.
---
STEP 1
Visit CANVA.com and login to your account. Then select Create a Design, review the listed options, and select Flyer (5.5 x 8.5 in). Notice that a blank canvas appears on the right-hand side, and flyer templates appear on the left-hand side.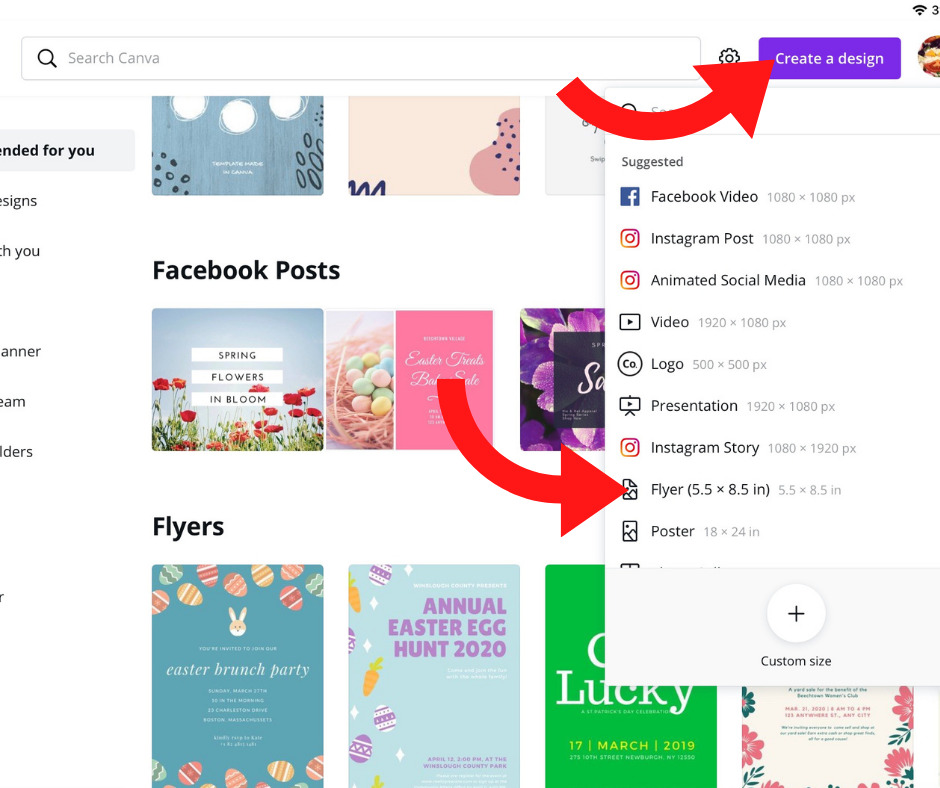 ---
STEP 2
There are many template styles to choose from. Type the words antique shop in the search bar on the left-hand side to find templates relating to antique shops.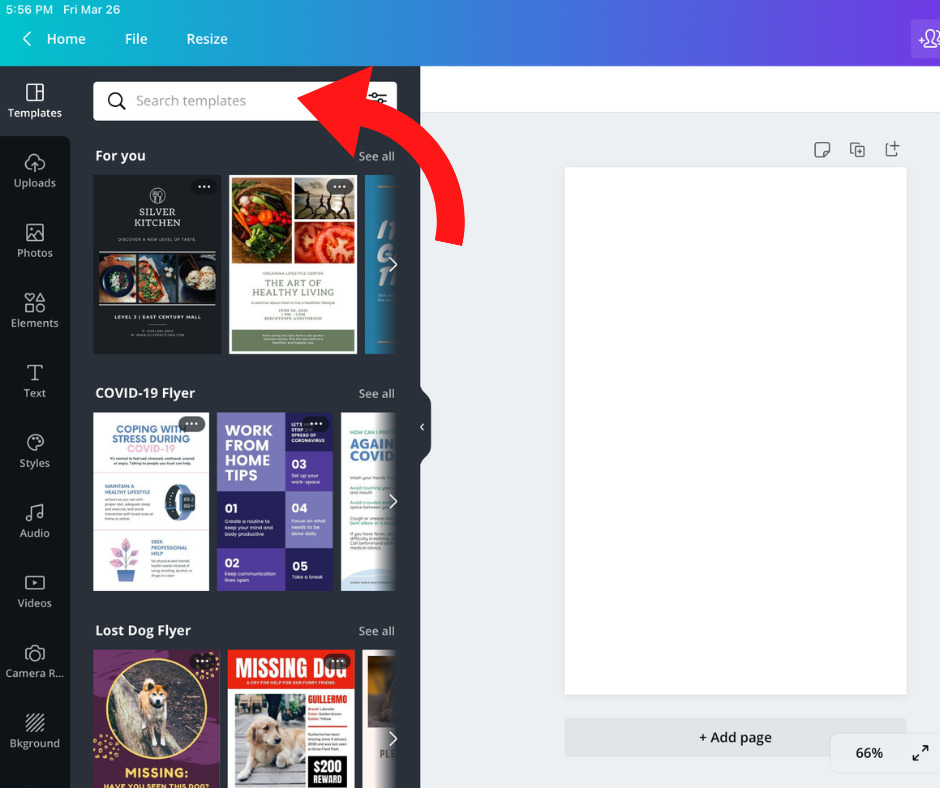 ---
STEP 3
Select a template that you like by clicking on it, and it will populate onto your blank canvas. Don't worry if you don't like the color or the font because everything is easy to adjust and change. I chose this gold brochure to start but will be changing the color, photos, and wording. Follow along for some exciting change.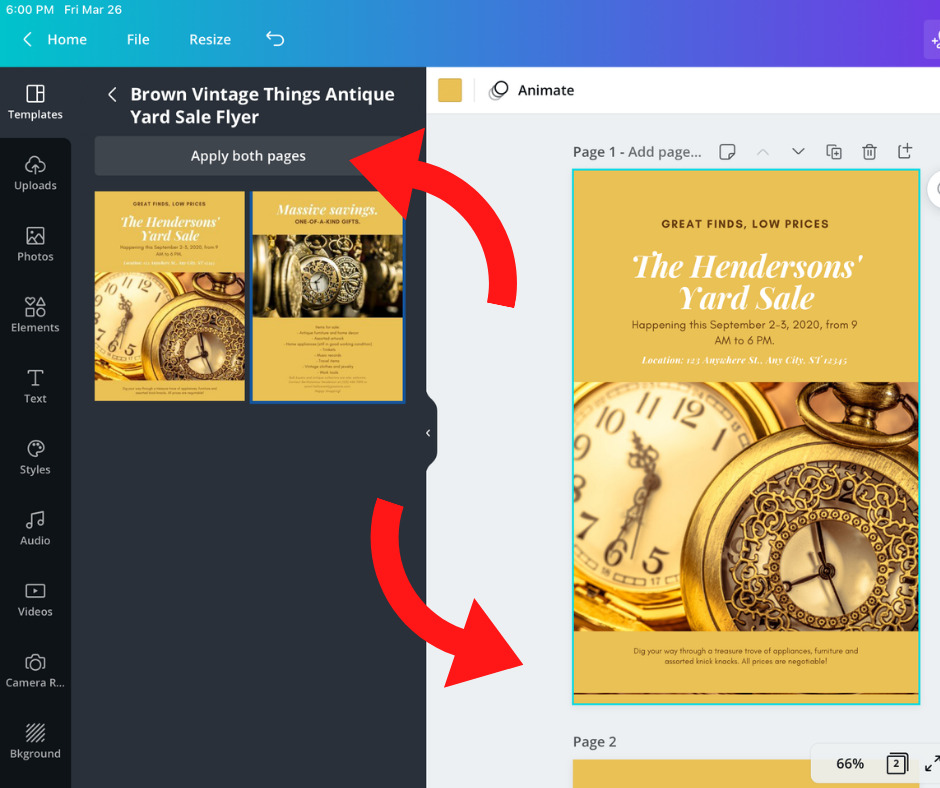 ---
STEP 4
Now the fun begins. The graphic on the right-hand side contains different blocks such as text, background, or photo. Watch how when you select an item, a green line appears around it and indicates the area that has been selected.
Do you want to change the photo? You have an option to upload your photos or use a stock photo. Today we will use a stock photo by choosing the photo option on the left-hand side. In the search box, enter the word antiques. When you find an image that you like, click on it, and it appears on your brochure. There are many adjustments available to make to this photo. But for now, we will only work on making it more prominent by grabbing one of the corners and stretching it.
---
STEP 5
When you click on the text, a green line box appears around the text. The dotted lines are for the background; the text area is selected and is ready to be edited. Change any of the wording by typing in your information. The color of the font can change, and so can the style. It may take a few tries to get the hang of how this works, but you will find it easy to make changes once you do. There is a help button at the bottom of each page in case you get stuck.
---
STEP 6
The background gold color is easy to change. When you select or tap the background, notice that a color square box appears (the box color will be the same as your current background) on the screen. When you click on the box, a rainbow of colors appears. Select any of those colors and see how the background changes. Experiment with different colors until you find the perfect color.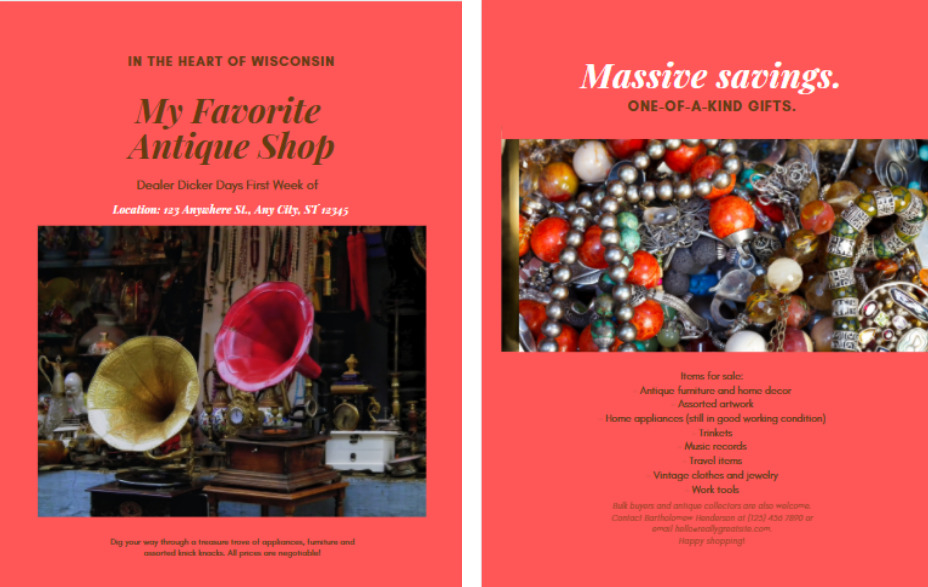 ---
STEP 7
After you are done tweaking and feel good about how your project looks, you have several choices. A few of these options are:
Download to a PDF.
Share on Facebook.
Send in an email or have the flyer professionally printed.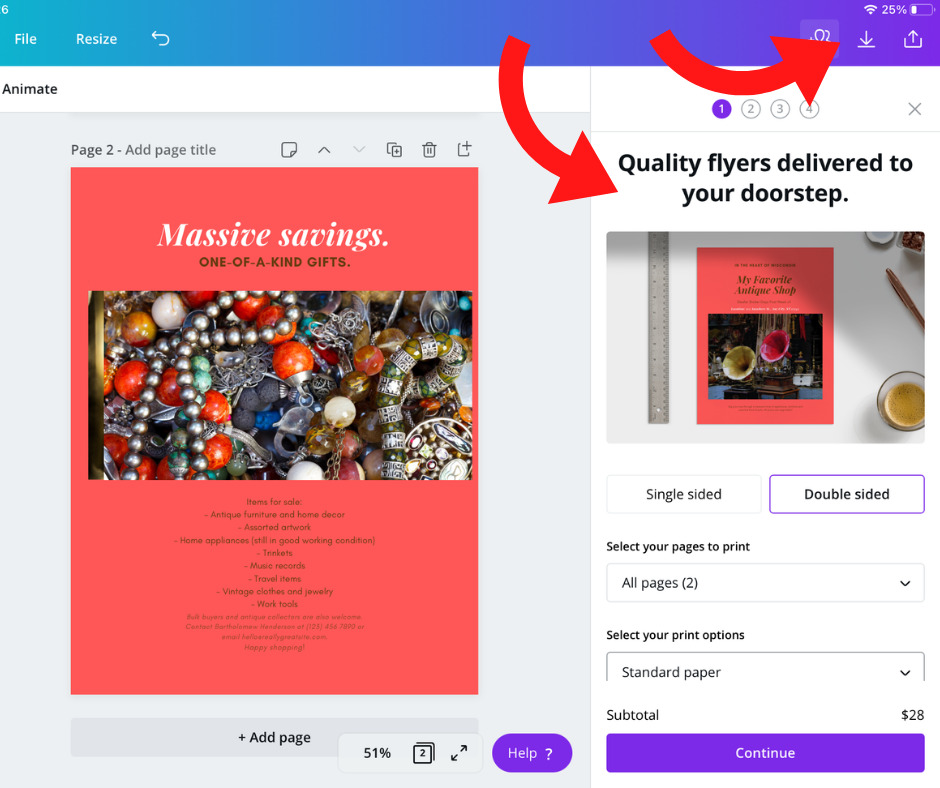 ---
TIPS
All you need is a little bit of time, a little bit of practice, and before you know it, your brochures will have a professional feel. The templates are easy-to-use for beginners. Just substitute your words and pictures to make the template authentic to your style.
If you have a little bit of knowledge of computers, you'll have no problems operating this program. If you are genuinely uncomfortable using a computer program, ask a friend to help you work on it. CANVA also has an app to use on a smartphone or tablet.
Begin by gathering the basic information you want to put on your brochures, like your store shop or business name. Then find a few good pictures or photos that tell the whole story of what you are about to say. For instance, if your shop is having an event, you will need the date, time, location, and phone number. Remember, a good brochure always has contact information, either a phone number or email address.
Learn how to use this free online tool to add more pizazz to your brochures, flyers, and Facebook posts. If you think that graphic design would be too hard for you to do, I want to challenge you to give it a try. In a nutshell:
Create a free account at canva.com
Select a template
Add some photos
Add your wording
Save your design
Share your creation on Facebook
Download or print your flyers
BONUS TIP
Wisconsin Antique Shops, Malls, Shows, and Flea Markets sign up for a free shop or event listing. We can feature your CANVA design on your listing page.
Now that you have a primary overview, head over to CANVA and give it a try. Besides creating flyers, CANVA has templates for Facebook posts, Instagram presentations, business cards, greeting cards, short videos, and more.